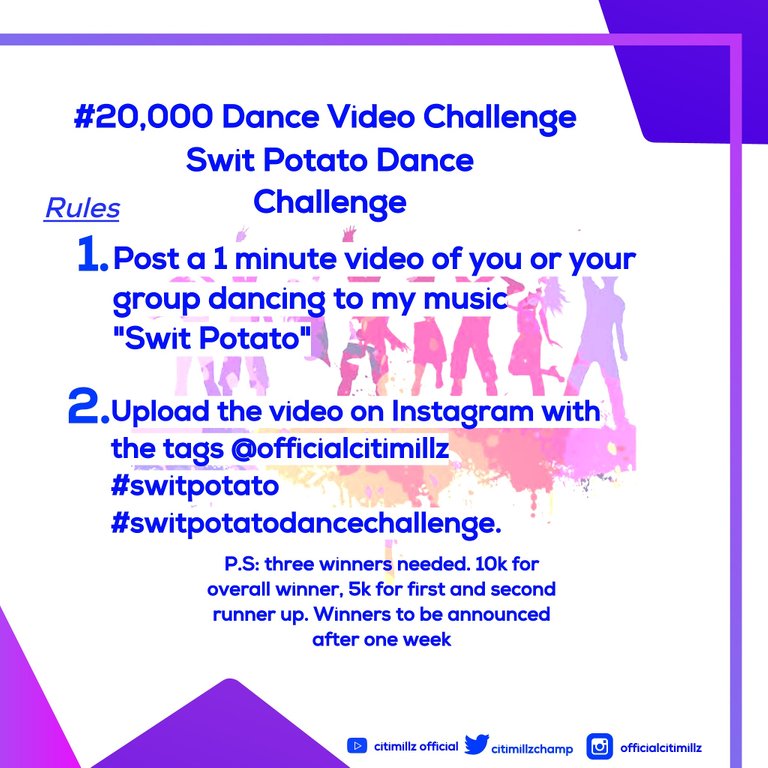 As a Music artiste, What I believe is that one of the ways I can give back to my fans and the society is by trying to encourage and develop people with skills. By hosting contests, I do think I will be able to achieve that. The much anticipated Dance Challenge for my hit single 'SWIT POTATO' is now on. If you are a dancer from Nigeria, all you have to do is make a short 1 minute video of you on Instagram dancing to the song, mention me @officialcitimillz and use the tags #SwitPotato #SwitPotatoDanceChallenge when submitting your entry. The Challenge will last for a week and afterwards, I am going to select the winners based on the number of likes they are able to get on their video entries.
Show me your dancing steps and WIN!!! 😄😉
Challenge Link here
https://www.instagram.com/p/CDv3X43Aozr/?igshid=1r079d2pyz9n6
GOOD LUCK!!