Let's party again today by 8pm GMT+1 over at the @telokanda weekend discord party, A Crypto rain party when every attendee gets free Crypto like BTC, HIVE, TLOS, EOS, ETH, KANDA, CHL etc for staying active in the community.
Telokanda is a Telos, Hive and EOS Blockchain based smart contract blogging and advertising platform where users earn Cryptocurrency for actions completed. Join the community and meet Hivers, Bloggers, Writers, Developers, Token experts etc. I use @tipcc and @kandabot to set up giveaways and tip attendees. $KANDA is the native token of the Telokanda platform.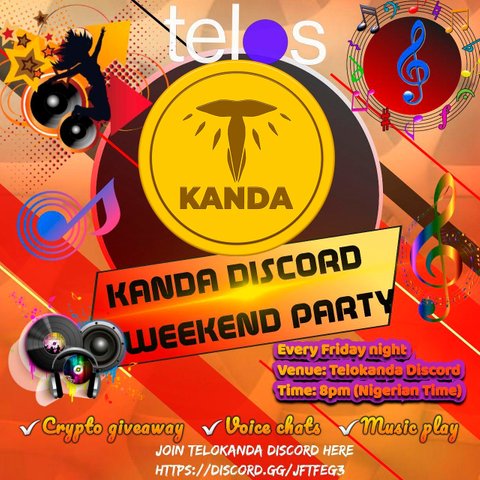 Post your contents via the Telokanda nitrous interface to earn both KANDA and Hive https://nitrous.telokanda.com
Subscribe to the Telokanda community on Hive https://hive.blog/trending/hive-182425
Have your PROMOTED Telokanda nitrous post show up every hour on our Discord for other community members to read and support.
Buy KANDA on Newdex using KANDA/TLOS trading pair here https://newdex.io/trade/telokandaone-kanda-tlos
Buy KANDA via hive-engine here https://hive-engine.com/?p=market=KANDA
Trade KANDA on ALCOR via https://telos.alcor.exchange
Visit Telokanda website here https://Telokanda.com
Instagram: https://instagram.com/Telokanda/
Telegram: https://t.me/Telokanda
Twitter: https://Twitter.com/Telokanda
Hive: https://hive.blog/@telokanda
---
Posted from Telokanda Hive Dapp