Amazing to see this user @hooiyewlim make almost $5 off a PICTURE and video of his local Malaysian Fiat notes .... all thanks to https://hive.blog the BLOG chain!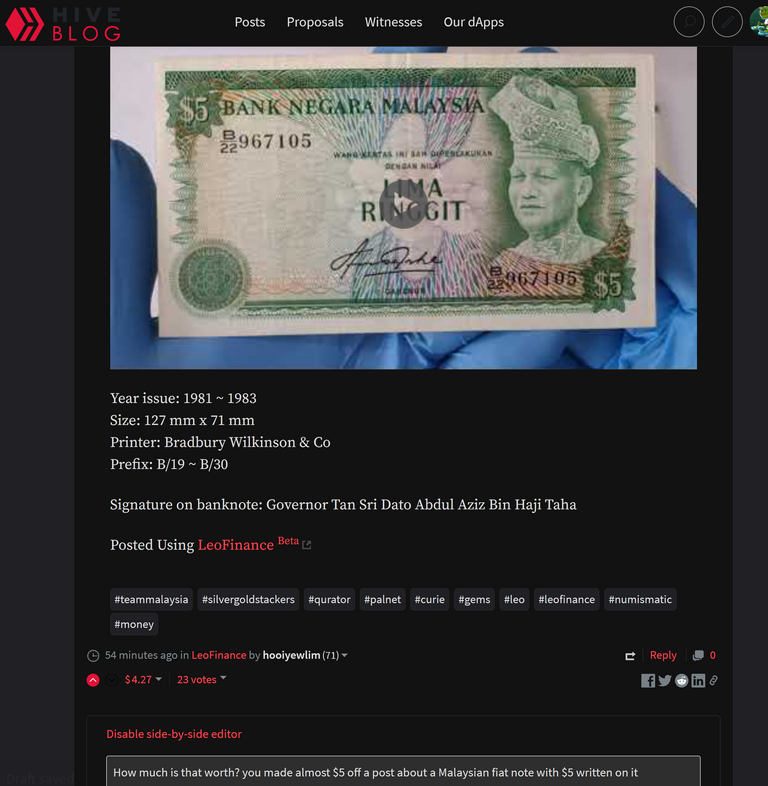 And here we are with HIVE UPVOTES backed effectivly by BTC and ETH via Blocktrades and LEO, now BACKING the value of this note hahaha an amazing phenominon we should name, like meta crypto double backed fiat,
I also see this happening with gold and silver, post images of valuables you own and get rewarded. You can be 100% anonymous too but we LIKE KNOWINg our USERS have WEALTH which we can LEVERAGE and HELP ADD TO! Imagine EVERY HIVE USER receiving 1 ounce of silver from a witness voted in just top be a MINT to use HIVE DAO FUNDS to RUN ITSELF!
https://hive.blog/hive-167922/@hooiyewlim/malaysia-1981-4th-series-rm5-banknote
ONE DAY WE WILL MAKE A SILVER BACKED HIVE MEDIA TOKEN WITH A HIVE MINT WITNESS