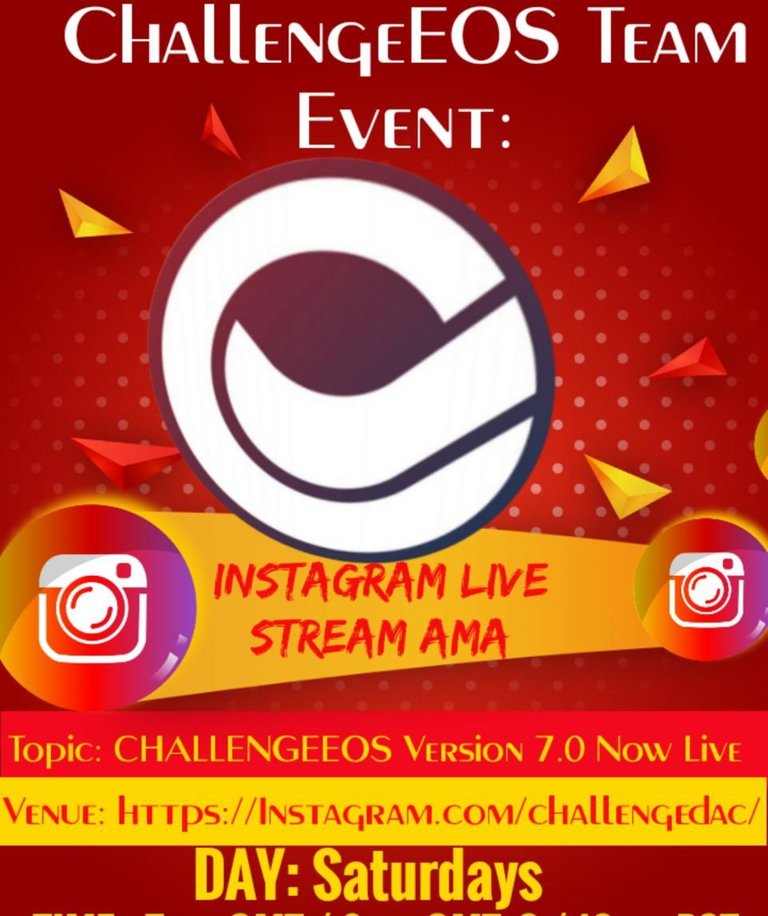 Every Saturdays, Myself and the C.E.O of the @challengedac project usually go Live on Instagram by 5pm GMT to answer questions from the Community members and also newbies who will want to be enlighted about the Challenge project.
The ChallengeEOS Application is a peer-to-peer challenge application which is used to send or receive challenges. With the use of the app, A challenge sender can set up a challenge which is either a Geo-challenge (one that the challenge receiver has to be at a location to unlock the crypto reward) or a Task challenge (one that the challenge receiver has to carry out a task e.g follow a social media account and drop proof as comment on the challenge for reward)
The App is a geo-fencing app and can be used for marketing purposes by companies, businesses, brands etc. Crypto noobs have been able to understand Crypto and Blockchain the more through the use of ChallengeEOS App. People from all over the world use this amazing app to challenge their friends as well as accept other user's challenges. The ChallengeEOS headquarters is located at San Diego, California.
Follow @challengedac Official Instagram: https://Instagram.com/challengedac/
Also follow my in share account to stay updated https://Instagram.com/officialcitimillz/
P.S: make sure to attend the live stream event for free 2000 $CHL and $4000 CHL if you ask questions.
Download ChallengeEOS version 7.0 :)
Android Version: https://play.google.com/store/apps/details?id=challengedac.com.challenge_dac_app
iOS Version: https://apps.apple.com/us/app/challengeeos/id1478759780
Buy CHL via @newdex-io:
https://newdex.io/trade/challengedac-chl-eos
Join @challengedac Official Discord server here: https://discord.gg/hDeVsxcH
Telegram group:https://t.me/Challenge_DAC
Read more about the App here https://challengedapp.io
Posted Using LeoFinance Beta
---
Posted from Telokanda Hive Dapp