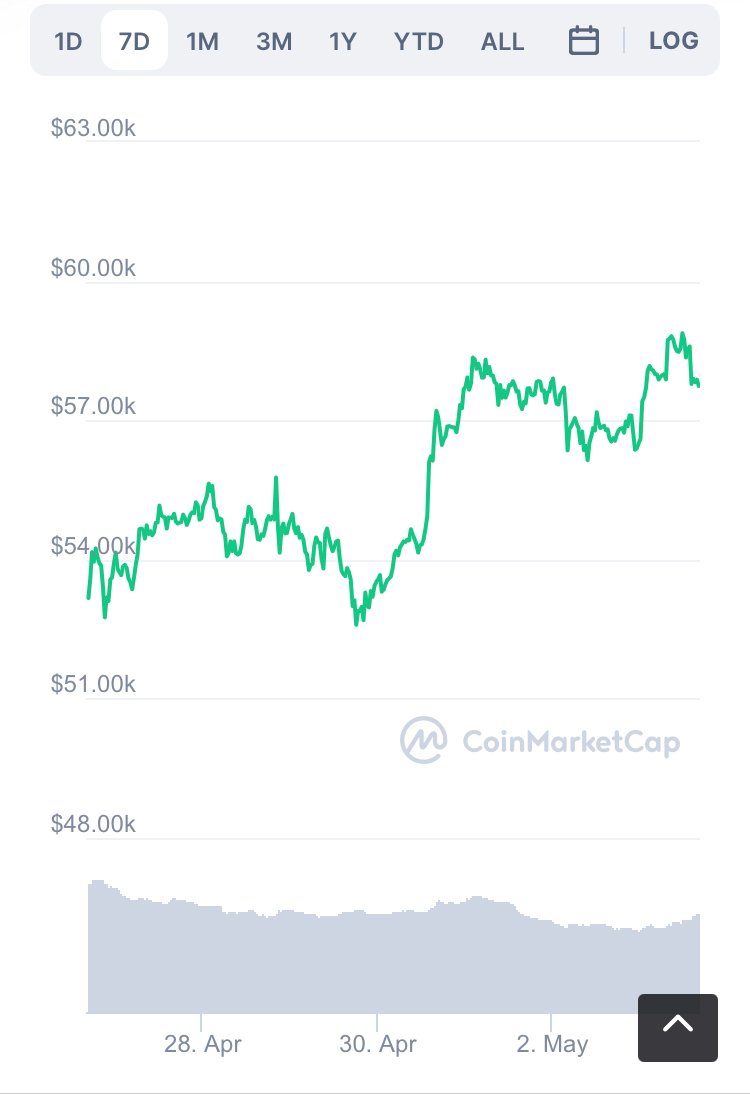 A 7-Day Price Chart Of Bitcoin on CMC
In the total crypto market cap, Bitcoin's share is now below 50%. This is due to the fact that investors also have their attention drawn to Altcoins launched on several blockchains mostly Binance smart chain, Telos blockchain, Ethereum Blockchain, EOSIO Blockchain and many more. According to CoinGecko, Bitcoin now has a 46% share of crypto market value.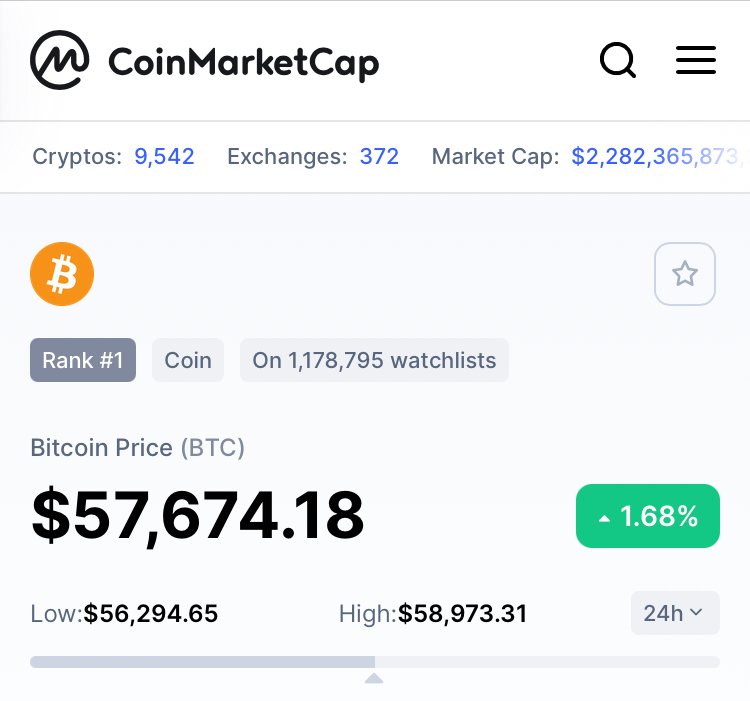 During the weekend, BTC had held support at around 56k and is soon approaching next level of resistance which is at $60k.
Bitcoin is doing well as at the time of writing this article, it's current price is over $57,674 and the world's number one coin has been up 1.68% in the last 24hours.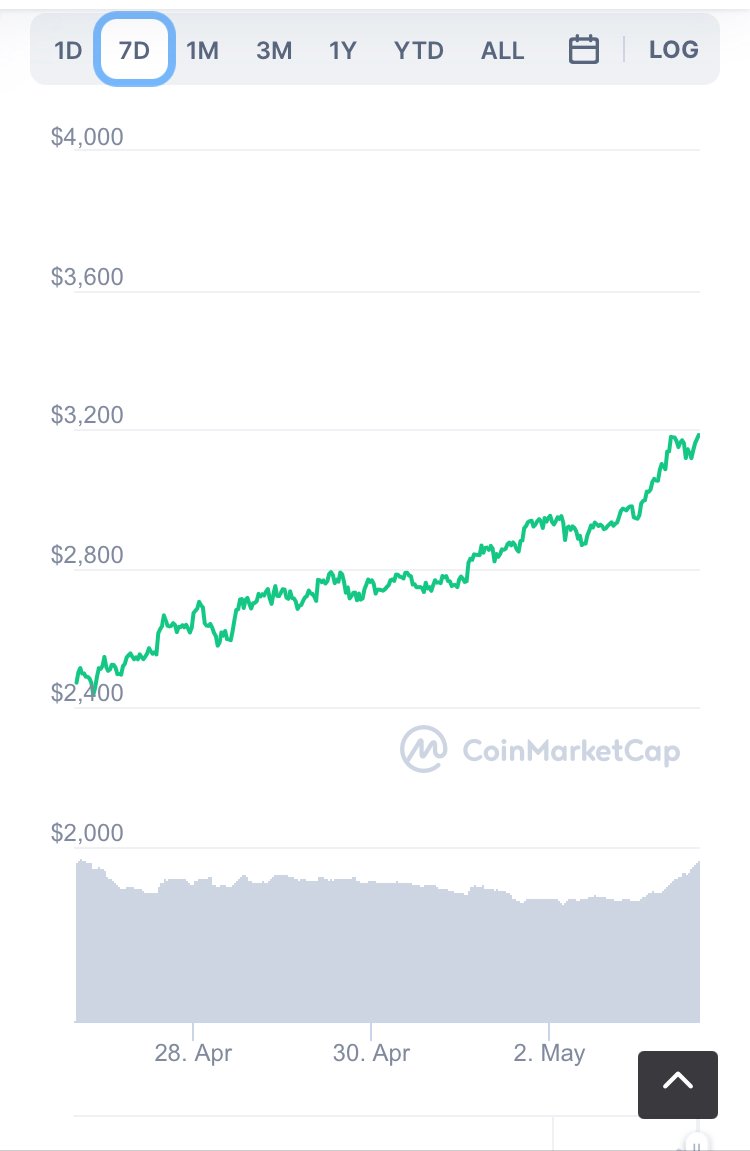 A 7-Day Price Chart Of Ethereum on CMC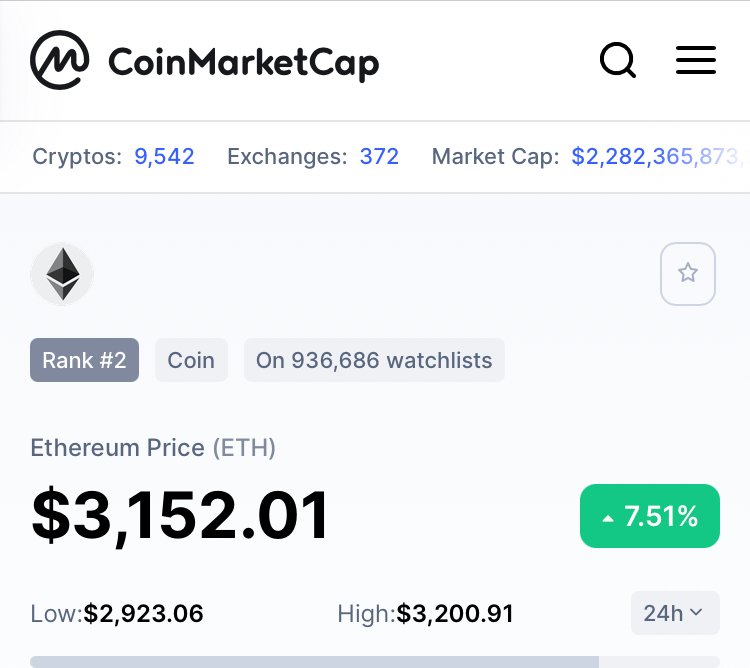 Ether reached a new ATH just six hours ago according to Coinmarketcap. ETH reached the $3000 mark last night and has on Monday hit $3200 recording a new ATH about six hours ago according to coinmarketcap. As at the time of writing this blog, price of ETH was at $3,152 and the coin price has gone up 7.51% in the past 24hours. You can view the information here CoinMarketCap
Projects which are also being deployed onto the Ethereum blockchain are also factors leading to the pump in price of ETH. The spike is also as a result of the impending EIP 1559 upgrade, an Ethereum software upgrade. A source from coinbase said that roughly 400,000 ETH was withdrawn out of coinbase just a few days ago.
Posted Using LeoFinance Beta
---
Posted from Telokanda Hive Dapp