The wind rose
A peaceful day by the sea awaited Claudia and Michel. They had planned everything considering the weather conditions, the hurricane season had already passed and they could now safely rent the beach hut as they did in previous years.
When they arrived at the site they felt like the first time, away from the noise of the city, they could be sure that their days on that wide beach with the surrounding cliffs gave them a lot of security.
A couple of days passed, on the third day the cloudiness increased, announcing an upcoming storm and rain. At that the wind kicked up shaking the windows of the cabin.
Both were scared since they had never witnessed this unusual event. The cabin shook more, a few minutes passed, both began to pray fervently.
Suddenly that slight shaking by the wind stopped and they now seeing that everything had been momentary thanked God for having heard their prayers.
© 2021, Felix Garcia P. All rights reserved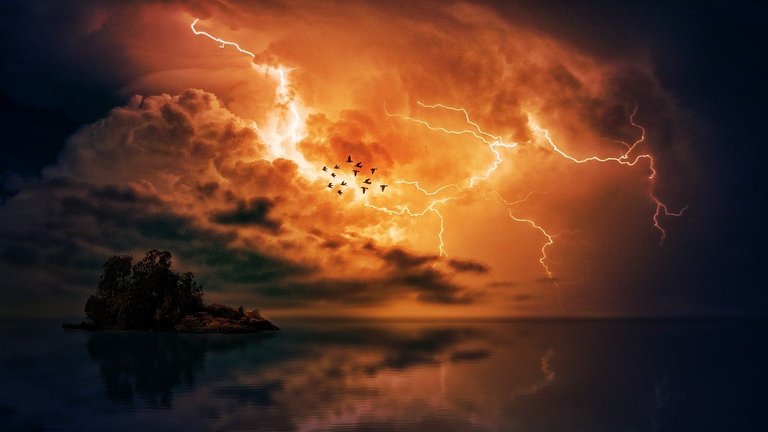 [photography pixabay.com]
(esp)
El viento se levantó
.
Un dia apacible al lado del mar les esperaba a Claudia y Michel. Habian planeado todo considerando las condiciones climaticas, la temporada de huracanes ya habia pasado y con seguridad podian ahora alquilar la cabaña de la playa como lo hicieron en años anteriores.
.
Al llegar al sitio se sintieron como la primera vez, lejos de los ruidos de la ciudad, podian estar seguros de que sus dias en aquella amplia playa con los acantilados que la rodeaban les trasmitia mucha seguridad.
.
Pasaron un par de dias, al tercer dia la nubosidad aumento anunciando una proxima tormenta y lluvias. En eso el viento se levantó estremeciendo los cristales de la cabaña.
.
Ambos se asustaron ya que nunca habian sido testigos de este inusual suceso. La cabaña se estremecio más, pasaron unos minutos, ambos comenzaron a rezar fervorosamente.
.
De pronto aquella leve sacudida por el viento se detuvo y ellos ahora viendo que todo habia sido momentaneo dieron gracias a Dios por haber escuchado sus plegarias.
Dear friends
This is my entry for the Sunday's freewrite challenge of @mariannewest. If you want to participate here you have the rules at the following link
Thanks so much for reading.
Waiting for your upvotes, comments and rehive
Also, don't forget to read the latest posts from our new page
FREEWRITE HOUSE!

[Image gif authorized by @freewritehouse]