El 8 de febrero de 1910, se considera la fecha de nacimiento del Boy Scouts Club (ver enlace). Organización que desde sus inicios se ha orientado a la siembra de principios y valores en los jóvenes como un beneficio palpable del trabajo social hacia la comunidad.
Muchos líderes y gerentes de negocios se beneficiarón de ser parte de la organización de los Boy Scouts, que le dio las herramientas que luego utilizaron en su desempeño como adultos.
Es necesario apoyar a estos clubes de niños, en los países y comunidades donde trabajan. En mi ciudad, tenemos la organización local de los Boy Scouts, Juan Pablo II, que promueve a los niños de bajos ingresos de la aldea de los pescadores, para el próximo sábado, se tiene planificada la donación de un almuerzo para veinte y cinco niños patrocinado por la Organización Rotary Club Lecheria y el programa de Pan del Cielo de la comunidad Heartchurch.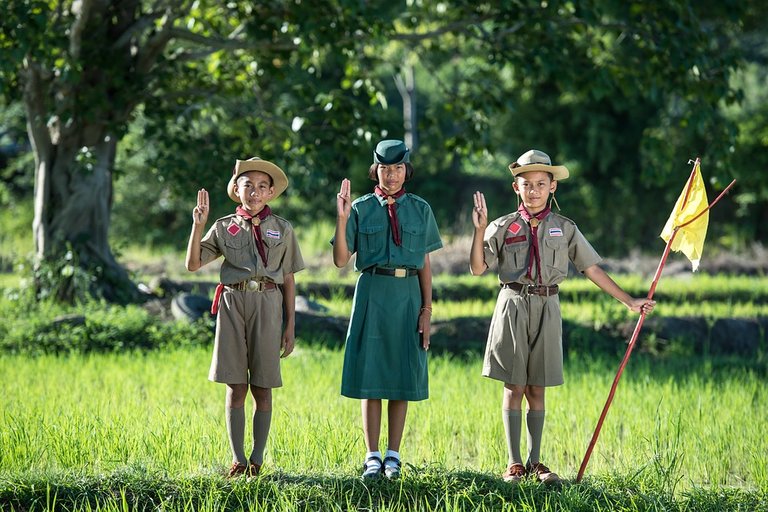 Fuente
(eng)
On February 8, 1910, the date of birth of the Boy Scouts Club is considered link. Organization that since its inception has been oriented to the sowing of principles and values in young people as a palpable benefit of social work towards the community.
Many leaders and business managers benefit from being part of the organization of the Boy Scouts, which gave them the tools they later used in their performance as adults.
It is necessary to support these children's clubs, in the countries and communities where they work. In my city, we have the local organization of the Boy Scouts, John Paul II, which promotes low-income children from the Village of the Fishermen, for next Saturday, the donation of a lunch is planned for twenty-five children Sponsored by the Rotary Club Lechería Organization and the Bread of Heaven Program of the Heartchurch community.
---
Estimados amigos
Esta es mi participación en el Spanish Freewrite de escritura creativa del dia 17 de junio de 2021 por @latino.romano.
Invito a participar a @rubenmedina182, @sacra97, @cruzamilcar63.