Challengeeos is a Geo-Specific Eos blockchain based decentralized application allows users to create and complete challenge to get reward. It has very helpful marketing tools that help us to create advertisement without contacting any centralized authorities. Promoting business is very easy here. Ads owner and ads viewers/challengers both get benefits from here that make this platform unique.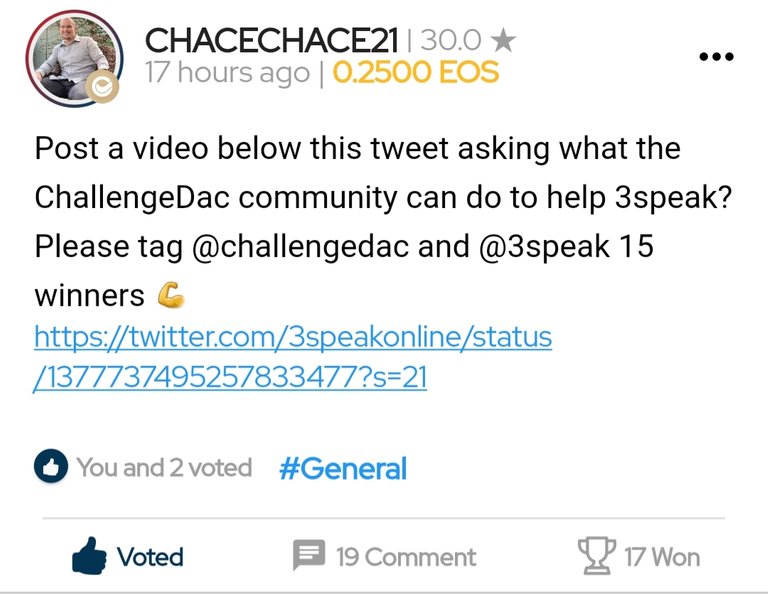 You can see ChaceChace21 has promoted 3Speak on Challengeeos and gifted 0.25 EOS to every participants who promoted 3Speak on Twitter. Challengeeos is a censorship free platform like 3Speak and others hive dapps. So we can help each others to build a more stronger community.
CHL is the native token of Challengeeos. Currently CHL is tradable on Newdex and Bitsonic exchange you can track it on Coinmarketcap or Coingecko. We can use CHL, EOS and some others EOS based tokens to promote our business. Several times i promote my ads and get satisfying feedback from the community. The community is very active and fast growing. The team members are also very hard working. Lot of great developments are ongoing. I expect lot of amazing features in coming days like Challengeeos own Cex, Dex, Support other crypto for promoting ads etc. Really i love this platform and it's unique idea.
Read My Challengeeos Review on Discussions App: https://discussions.app/tag/chl/2ike8ukpvq41r/talking-about-challengeeos-application
Download ChallengeEOS version 7.0 :)
Android Version: https://play.google.com/store/apps/details?id=challengedac.com.challenge_dac_app
iOS Version: https://apps.apple.com/us/app/challengeeos/id1478759780
Website: https://challengedapp.io
Buy CHL via @newdex-io:
https://newdex.io/trade/challengedac-chl-eos
Join official Discord server: https://discord.gg/hDeVsxcH
Join Telegram group: https://t.me/Challenge_DAC