-Introduction.
-Statistical presentation of CHL prices.
-Interpretation in Statistics of CHL price.
-Conclusion.
Introduction
One of the token that will pump up soon is the challengeeos token known as CHL.
As a matter of fact, its been of concern that most of members of the challenge community that earned, bought and hodl the challenge DAC token keeps in mind the question of when the CHL price will go high.
If you are in that category, Just get a chilled bottle wine in a glass cup and have a sip because this guide is mearnt for you.
This guide suggest a means of having confidence in the chl price using principle of statistical analysis. This principle is known as eye-test.
Statistical Presentation of CHL Prices.
Below is a random sample survey of the prices of CHL from 22nd to 29th of May, 2021.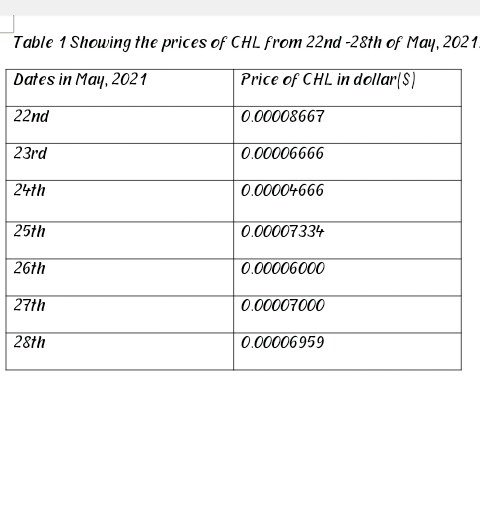 Interpretation in statistics of CHL price.
The table above can be easily interpreted by dividing the digits after the decimal into two places containing four digits each. This is done for the purpose of clarity.
That is to say, we have .0000 and ####
It shows there is a bit of unstability in the price of CHL within the range of 0.00004666 to 0.00008667 which is 4666 to 8667. I want us to view this as a real number you can see that with time the price of CHL will occupy the last two digits of the first part which is .0000.
Conclusion
This price has shown that this is the best time to buy CHL token and hodl. I did a prediction test to predict when the price of CHL shall be equivalent to a dollar which would been seen in the next post.
To buy chl use the link below
Download Challenge App Android version here.
https://play.google.com/store/apps/details?id=challengedac.com.challenge_dac_app
IOS version
https://apps.apple.com/us/app/challengeeos/id1478759780
Buy chl via
https://newdex.io/trade/challengedac-chl-eos
Join challenge server on discord via
Join challenge on telegram
https://t.me/Challenge_DAC
Join challenge on Instagram via
https://Instagram.com/challengedac/website:
https://challengedapp.io