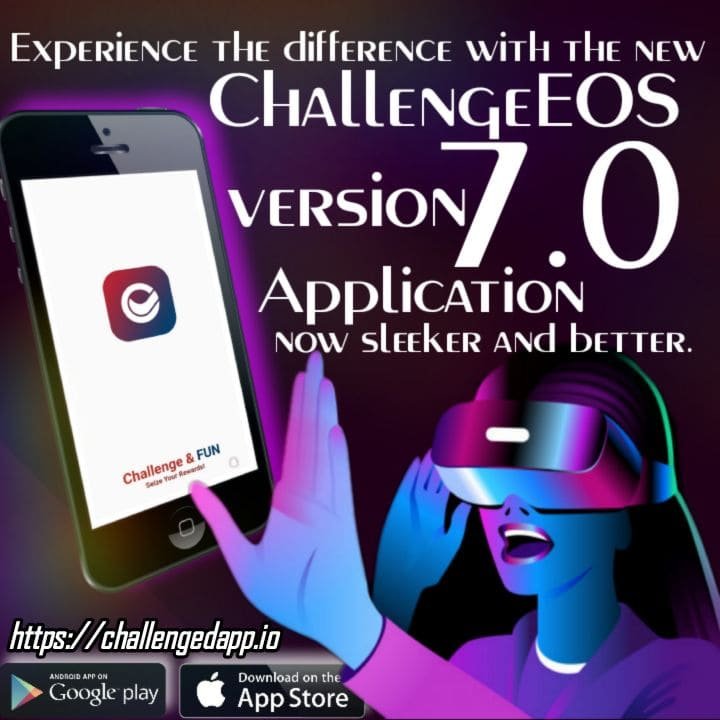 We are super excited to inform all ChallengeEOS App users that the new Challengeeos Version 7.0 is now up and running. The new version was launched on 25th February 2020 and is now available on Google PlayStore and the AppStore. We urge our users to go and update their app to the latest version and for those who are yet to own an account on our app, we urge you to go and download now.
The new version is even more sleeker, equipped with more amazing features, user-friendly and also easy-to-use. We are poised at promoting the wonders of blockchain technology and also putting extreme effort to ensure mass crypto adoption through our app.
Download CHALLENGEEOS Version 7.0, the number one Blockchain challenge App whenre you get to send or receive challenges with Crypto rewards.
Android Version: https://play.google.com/store/apps/details?id=challengedac.com.challenge_dac_app
iOS Version: https://apps.apple.com/us/app/challengeeos/id1478759780 @here
Challengeeos App is an EOSIO Software based Geo-specific mobile App used to send and receive challenges. users can use the app to create or receive task challenges, post or Geo-challenges.
A task Challenge is the one a friend can challenge you to like his/her tweet for example so you can claim Crypto rewards, while Geo-challenge is the one a player asks you to show up at a nearby location and unlock Crypto rewards. A post challenge is the one you post a screenshot of you campaigning for a crypto project and you are entitled to getting Crypto tips from other users who appreciate what you have done.
Join Discord group here: https://discord.gg/hDeVsxcH
Join Telegram group: https://t.me/Challenge_DAC
CHALLENGEEOS!
SEIZE YOUR REWARDS!!