This post will is strictly for NFT artists on the Hive ecosystem who know they are good at designing or creating NFTs. All hivers who create NFTs and those who will love to learn how to create one are open to this update. I am hosting an NFT Giveaway which is being endorsed by the @challengedac C.E.O @anderson91. It is a 3 $EOS Giveaway and the contest is really an easy one. The founder of the ChallengeEOS app project is putting in so much pressure to see how he can get the project to be embraced globally by partnering with more projects and promising blockchains like the Telos.
All the participants have to do is follow the rules in this Twitter contest. One lucky winner will be selected and rewarded with 3 EOS. The winner will be an artist whose NFT Got accepted by the NFT Showroom after they might have entered our contest.
Here is the Giveaway tweet;)
Good Lucky guys!!
Sign up on the NFT Showroom platform and create or update your profile if you are an NFT artist. https://nftshowroom.com
Download Challengeeos mobile App here For Android users: https://play.google.com/store/apps/details?id=challengedac.com.challenge_dac_app
For iOS users:
https://apps.apple.com/us/app/challengeeos/id1478759780
Challengeeos App is a EOSIO Software based Geo-specific mobile App used to send and receive challenges. users can use the app to create or receive task challenges and Geo-challenges. It is also a perfect marketing tool for businesses, projects, companies. All challenges on the app are cryptocurrency related challenges.
A task Challenge is the one a friend can challenge you to like his tweet for example so you can claim Crypto rewards while Geo-challenge is the one a player asks you to show up at a nearby location and unlock Crypto rewards.
Follow @challengedac Official Instagram: https://Instagram.com/challengedac/
Also follow and share my Instagram account to stay updated https://Instagram.com/officialcitimillz/
P.S: make sure to attend the Instagram live stream event every Saturdays by 5pm GMT for free 2000 $CHL and $4000 CHL if you ask questions.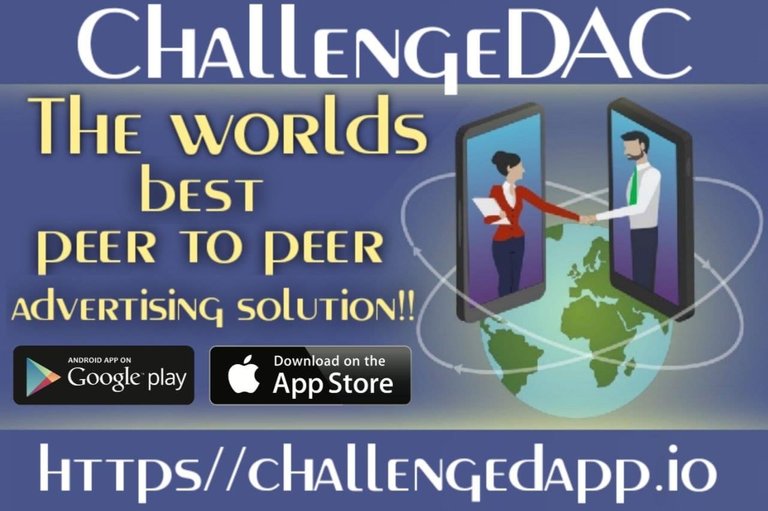 Download ChallengeEOS version 7.0 :)
Android Version: https://play.google.com/store/apps/details?id=challengedac.com.challenge_dac_app
iOS Version: https://apps.apple.com/us/app/challengeeos/id1478759780
Buy CHL via @newdex-io:
https://newdex.io/trade/challengedac-chl-eos
Join @challengedac Official Discord server here: https://discord.gg/hDeVsxcH
Telegram group:https://t.me/Challenge_DAC
Read more about the App here https://challengedapp.io